Showcase Your Internet Product or Service to the Ultimate
Audience of Qualified Buyers & Influencers at the Underground®
Location: Washington, DC
When: March 1-3, 2012
Bob Parsons, CEO of GoDaddy.com,
the world's largest domain seller.
Every year since 2003, the sold-out Underground Online Seminar® has provided high-level Internet marketing information from real-world, in-the-trenches presenters quietly making their fortunes online.
It's become the top networking and learning event for Internet marketers with presenting attendees such as Tony Hsieh, CEO of Zappos.com, Mike Faith, CEO of Headsets.com, Darren Rowse, ProBlogger.com, Bob Parsons, CEO of GoDaddy.com, Gary Vaynerchuk, author of "Crush it" and Jessica Jackley, co-founder of Kiva.org.
Last year the event attracted 470+ serious online entrepreneurs coming from all over the globe. And if you qualify you'll have the opportunity to showcase your product or service on stage to these movers and shakers. It's an ideal way to generate direct sales, exposure and attract qualified joint venture partners or affiliates from the audience.
What's more, your presentation will spread beyond the event because it will also be broadcast to our database of over 110,000+ subscribers to view online.  If selected your fee is $5,000 and spots are extremely limited.
Here's what you'll get, if selected:
LIVE 6-minute presentation on stage to the entire audience.
Presentation broadcast online to database of over 110,000+ Internet entrepreneurs to watch.
1 VIP attendee badge (3,495.00 value)
Attendee registration bag insert.
In order to qualify you cannot just pitch for your product. We're only selecting presentations to enhance the value of the event for the audience.
Underground LAB Presentation Q&A:
Q: Is there a charge to apply for a slot?
A: No, there is absolutely no charge to apply. We want to provide the audience with the best experience of innovative products, resources, technology and services selected to present.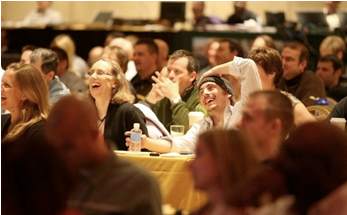 Real-world speakers provide brass tacks advice and insights engaging attendees and providing solid action plans to profit from.
Real-world speakers provide brass tacks advice and insights engaging attendees and providing solid action plans to profit from.
Q: Which kinds of products or services are right for this audience?
A: If it has anything to do with Internet marketing – the audience will find it appealing. They've come specifically looking for new technology, tools and resources.
Q: Who attends the Underground®?
A: The attendees of the Underground® will be FAR different than the attendees of most other conferences you may have attended or sponsored in the past; here's why:
Every person in attendance has paid a considerable amount of their own money to attend; they did not come because they receive a free "paid vacation" to show up. Obviously the people who attend these events are far more committed and serious about growing their business and becoming a better entrepreneur.
These Internet entrepreneurs are passionate and HUNGRY for new products, information and services; that is why they are coming to the conference in the first place.
These entrepreneurs have tremendous influence and followings of their own. Attendees each have significant reach via social media, blogging and their own subscriber lists (many times numbering 100,000+) who rely on them for recommendations.
They are buyers! 98% control the buying decision for nearly every product or service used in their business. 36.61% of attendees are running 6 or 7-figure online businesses so they have the cash flow to invest in your product. And the ones who are starting out are wiling to invest in their success.

Q: Are there any other kind of sponsorship opportunities?
A: Yes, there are. Please contact please contact Andrew Way (541) 678-3191
---

Warranties, Disclaimers & Legal Rights | Earnings Disclaimer
Terms of Service | Privacy Policy

Part of the Internet Lifestyle Network